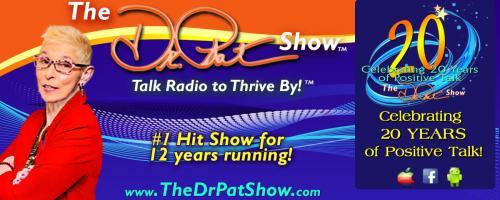 The Dr. Pat Show: Talk Radio to Thrive By!: Breaking Through the Crust of Healing PTSD with Michele Rosenthal
09/09/2015 11:00 am PDT
Every life contains elements of trauma that put in place limiting beliefs, blocks and obstacles that hold you back from reaching your unlimited potential. Especially when trauma leads to posttraumatic stress disorder (PTSD) your potential can become a prisoner of the past. Freeing yourself means discovering how to access and inhabit the deep source of your courage. Trauma and PTSD expert, survivor and author, Michele Rosenthal, joins Dr. Pat to talk about her latest book, Heal Your PTSD: Dynamic Strategies that Work, and how anyone can launch a healing rampage to break through the limiting Crust.
Dr. Pat Baccili
Dr. Pat Baccili helps individuals and organizations break through their limiting Crust so they can reach their unlimited potential. Her specialty is assisting people face t...
Find out more »
Michele Rosenthal
Michele Rosenthal is a popular keynote speaker, award winning blogger, award nominated author, workshop/seminar leader, and certified professional coach. She hosts the radio...
Find out more »