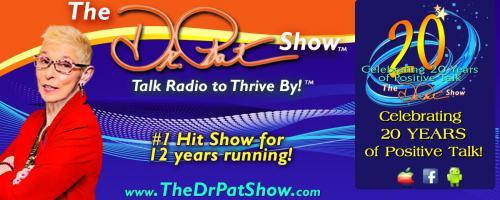 The Dr. Pat Show: Talk Radio to Thrive By!: Intuit Your Way to Happiness and Success with Author May McCarthy
12/28/2015 11:00 am PDT
Just like Bill Gates, Oprah Winfrey, Steve Jobs, and Albert Einstein, you can learn to rely on intuition to achieve more of what you want in all areas of your life. May will share the simple daily steps that will help you to achieve more of your goals.
Episode giveaways:
3 copies of May McCarthy's book - Path to Wealth - will be given away during the show
Dr. Pat Baccili
Dr. Pat Baccili helps individuals and organizations break through their limiting Crust so they can reach their unlimited potential. Her specialty is assisting people face t...
Find out more »
May McCarthy
Since 1982, May McCarthy has co-founded and helped to grow seven successful companies as large as $100 million in annual revenues. She is an author, speaker, universit...
Find out more »