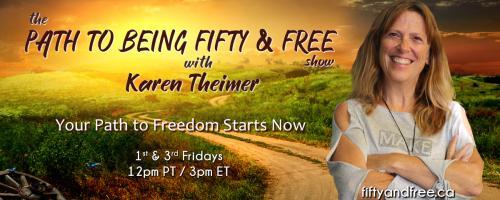 The Path to Being Fifty and Free Show with Karen Theimer: Your Path to Freedom Starts Now: Episode 2: What is Laughter Yoga Therapy and How Can Your Mind and Body Benefit? With special guest Cathy Nesbitt
09/17/2021 12:00 pm PDT
Laughter truly is the BEST Medicine!
Join me and my special guest, Cathy Nesbitt for a podcast episode where we discuss the mind and body benefits of Laughter Yoga.
Cathy is a Health and Wellness Advocate as well as a facilitator for Laughter Yoga. She also is a long time friend and colleague of mine. Tune in as Cathy shares with us all about this awesome act of self-care that is so much fun!
Plus tune in to grab her FREE Offering for an upcoming session!
Episode giveaways:
You're Invited to 30 minutes free super fun self care! Free Weekly Zoom Laughter with Cathy Join us - Online Event You are invited to join us for some fun & laughter at our weekly Zoom laughter meeting. It is always easier and more fun to laugh in a group and this is why Zoom Laughter works so well. A screen full of happy smiling faces is the restorative tonic we can all use at a time like this. Topic: Zoom Laughter Tuesdays When: 9:30 AM Eastern Time, Every Tuesday Register in advance for this meeting: https://us02web.zoom.us/meeting/register/tZIqfuihrj8jGdGXpEcAbWVnXAX32PoM_DGU After registering, you will receive a confirmation email containing information about joining the meeting.
Karen Theimer
The Path to Being Fifty and Free Show with Karen Theimer: Your Path to Freedom Starts Now Are you approaching your 50's or in your 50's and feeling stuck? Are you f...
Find out more »
Cathy Nesbitt
Cathy Nesbitt is a Health and Wellness Advocate. Cathy is the Founder of Cathy's Crawly Composters (est 2002), Cathy's Sprouters and Cathy's Laughter Club....
Find out more »